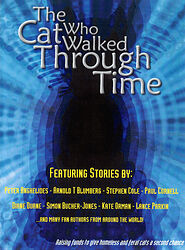 My first charity anthology entry
Back in 2000, Alryssa Kelly put together a charity
Doctor Who
anthology in support of a cat shelter in Cincinnati. There were a lot of these anthologies around at the time, and I'd been turned down by most of them. I remain enormously grateful to Alryssa for giving me my first real break.
The Cat Who Walked Through Time
sold well to fans, and raised a lot of money for its charity. I'm still in touch with Alryssa, and some of the other authors. I met Matt Marshall quite by chance, several years after the book was published. Plans for
The Cat Who Walked Through Time 2
were eventually shelved.
My own story was an absurd tribute to the Pertwee era, with popular companion Jo Grant taking out an alien mothership,
Die Hard
-style. It was a Bond pastiche, and I think when I first wrote it, I intended it to be the opening sequence for a novel proposal. There was a bit that flagrantly defied the laws of physics, which sparked a bit of controversy in comments sections around the internet, as a few people debated whether it was a "deliberate mistake" or not (it was, and Kate Orman was my editor on it, so if she has 16 year old emails squirrelled away, she can back me up...).
The Cat Who Walked Through Time
is, to the best of my knowledge, no longer available for sale, though it pops up on eBay from time to time.
EDIT: Blimey, I googled a bit and found out a copy went for almost $400 on eBay last year (no really, look: http://www.ebay.com/itm/121368934428). The listing claims it's one of the rarest Doctor Who books ever published with only 350 copies ever printed. I... did not know any of this. If you have a copy, you may have a bit of a goldmine on your hands. I do have a copy. I'm currently mentally assessing my sentimental attachment to my first print anthology credit.