I do a bit of acting in what's laughingly known as my spare time. This page will be updated with details of theatre and (incredibly rarely) film / TV extra work.
Recent
Nosology: 1 October 2015
My wife and I played Nauru and Billy in this 10 minute one act play at the Bedford in Balham, London. The play was written and directed by (and also starred) Naomi Westerman.
Tortoise: 13 November 2015
I played three supporting male roles: Psychiatrist, Doctor Bob, and Billy, at a Criterion Theatre showcase for New Writing.
Tortoise
was written and directed by (and also starred) Naomi Westerman. My West End debut!
Tortoise: 25 February 2016
Another performance in Naomi Westerman's play - this time a rehearsed reading of the full-length script at the Arcola's
PlayWROUGHT festival of new writing
. I played: Psychiatrist, Doctor Bob, Billy, George and Nurse.
Tortoise
was written by Naomi Westerman, directed by Ellen McDougall, and starred Lilly Driscoll, Sarah Berger and Sally Scott.
Black Comedy: 2-5 March 2016
My wife and I played Carol Melkett and Brindsley Miller in this charity production of Peter Shaffer's classic 1965 farce in Barnes, London. Directed by Naomi Westerman. The run was pretty much sold out, and good fun was had by one and all.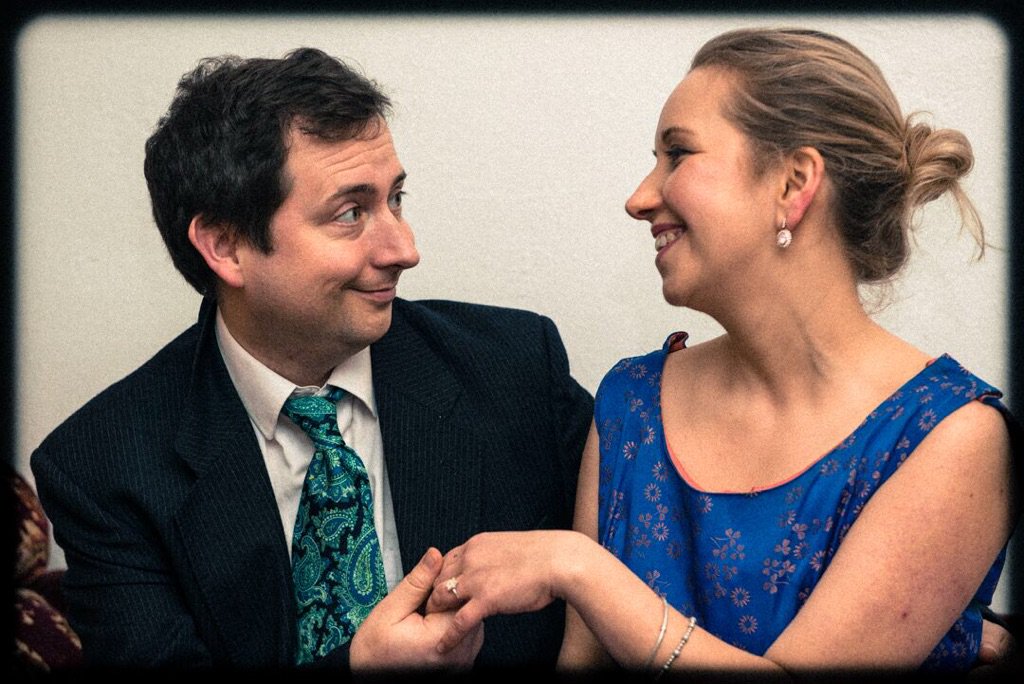 Puppy: 12 September 2016
On our first wedding anniversary, my wife and I played Sandra and Dave in Naomi Westerman's short play about dogging, at a JUKEBOX evening of acts raising money for a reading of
The Subject
at The Star of Kings. The evening was sold out, and the play got some great laughs.
The Ladykillers: 5-8 October 2016
I played Constable MacDonald in Graham Linehan's brilliant stage adaptation of the classic Ealing comedy film, for St Michael's Players in Chiswick. Three of the four shows were sell-outs and this was easily the greatest amateur production I've ever been involved with.
Not pictured: Constable MacDonald...
Close to the Enemy: December 2016
I did one long and intense day's work as an extra on this Stephen Poliakoff drama, mostly in the sheeting rain, and it was broadcast as a six part serial on BBC2 towards the end of 2016. I was visible bobbing about as a court reporter throughout an Episode 4 sequence where a German war criminal was on trial.
Yes, a professional director entrusted me with a camera and flash gun...
Cinderella: 6-10 December 2016
I played ugly sister Grizelda in the Barnes Community Players panto, and Mel played Prince Charming's valet, Dandini! We had a fantastic write-up here -
https://markaspen.wordpress.com/2017/02/24/theyre-behind-you-pantomime-season-2016-17/
Mere seconds before the inevitable Morecambe & Wise gag. "What do you think of it so far?"
Puppy: 23 February and 2 March 2017
Naomi Westerman expanded her short play into a full-length piece for the 2017 Vault Festival. Mel had to duck out due to other commitments, but I reprised my role as Dave, and also played a porn actress and... Nick Clegg. The show was highlighted by both the
Guardian
and
Time Out
, and the first performance sold out. Limited tickets to the second performance are now available from
http://www.vaultfestival.com/event/puppy/2017-02-23/
Following Puppy, I'll be taking a short break from acting, in order to focus on my writing. Hopefully it won't be too long before a few more shows appear on this page, and I do need to update with a few photos.